Dominican hot cocoa or "
cacoa tea
" as we call it(pronounced "kako") locally is a blend of flavors and aromas like no other. The scents and the taste gives you an out of this world experience.
After discussion with my hubby, for the past few mornings I've been waking everyone up at 6am for family devotions. I've been serving us a hot cup of tea while we sit around the dining table having devotions.
Last night we got some cocoa sticks from my hubby's mom(she makes them using cocoa beans from the trees in their garden). Click
HERE
or the picture below for a brief explanation of how the cocoa sticks are made. This photo came from www.coffeeandvanilla.com.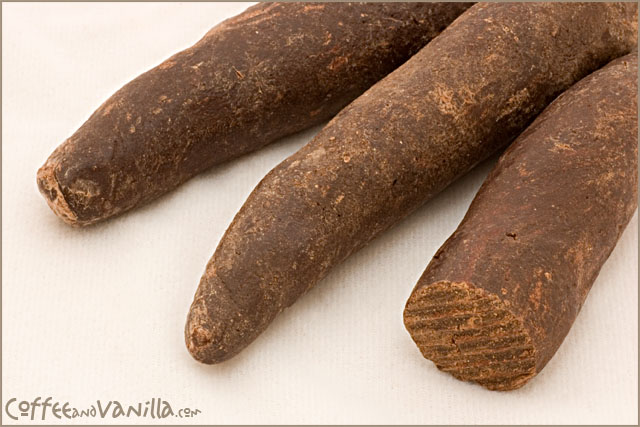 That gift of cocoa sticks gave birth to the idea of adding "
cacoa tea
" to our line up of teas during family devotions. We've had peppermint, lemongrass and cinnamon tea all freshly brewed(no processed packages). So this morning we had "
cacoa tea
". It's been so long since we've had it. Everyone loved it. And if I do say so myself it was better than I've ever tasted it. I used freshly made coconut milk and some vanilla extract(none of the imitation stuff) to add to the rich and full flavor. I wish I had pics to share but my camera is still on the fritz.
Here is the
recipe for Hot Cocoa(CACOA TEA) - Dominican Style:
5 - 6 cups of water
1 cocoa stick(medium size)
2 bay leaves
1 cinnamon stick
1 tbsp vanilla extract(approx.)
1/2 cup coconut milk(approx.)
Brown sugar/honey or your sweetener of choice
Bring cinnamon stick, bay leaves, cocoa stick and water to a boil and boile for another 15 minutes or so. Please do not cover the pot completely because it may spill over the edge. Strain liquid. Add the coconut milk, vanilla extract and sweetener. Mix well. Pour and enjoy!
Serves 4.
That's it. simple enough. Please bear in mind that traditionally we in the Caribbean do not use measurements when doing our food preparation. However I attempted to estimate what I had used in this morning's tea. Alternatively some people boil the coconut milk with the others things as well. So feel free to tweak to your taste.