I have something exciting to tell you.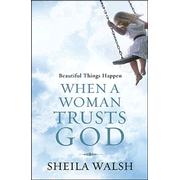 Sheila Walsh has a new book called
Beautiful Things Happen When a Woman Trusts God
and in honor of her new book, and this is the other exciting thing and the big reason for this post, Christianbook.com is offering a
free download
of her other book called
Living Fearlessly
. The whole thing, 256 pages long is available to Christianbook.com customers for free! Yep for F.R.E.E! This is so exciting. I love to read and I love free so put those two together and it's a winning combination for me.
But of course you know I cannot keep it to myself. Since my aim is to be a blessing as much as I can, I decided to share this great news and free offer with you. I'm a great friend right? (Just nod-I'll take the nod if you can't say yes outright) Come on now smile. Anyway on to the offer.
If you're a Christianbook.com customer all you have to do is click this link here to go over there to
download your free copy of Living Fearlessly
. The link will take you to the sale page for her new book. Scroll down a little to the Product Description section to get the instructions for downloading
Living Fearlessly
. And voila! Awesome stuff! Enjoy it.
We all need to feed our minds with good things and the Lord is blessing us with this where we don't have to pay for it. Now if you have the dinero(cash) to spend you can go ahead and purchase the copy of her new book as well. I won't mind. It will put some much needed moolah(cash) in my pocket. Come on now - smile. I love it when people smile. Of course this is the cyber world and I'm not there with you while you're reading this but that's okay smile anyway. :)
Have a blessed day.